February! Oh my! It means that Spring is just around the corner. I've actually really enjoyed this Winter more than others. It feels good to sink inward and dance in the depths, in the dark, in the cold. I look forward to what rises and grows in a month or so (uhm, like this Mama Moves Circle I'm getting ready to launch in March!)
But for now, onto our Mama Week-Crafting inspiration! Here's what caught my eye this weeK:

I make Salmon Cakes quite often but this particular Salmon Cakes with Lemon Rice uses capers! Yum. I can't wait to try it.
And from Smitten Kitchen, I'm going to give this Lentil Soup with Chard, Sausage and Garlic a try. I love sausage and greens together and I often toss in Kale but Chard will be a welcome change.
Of course, we gotta have a meaty meal (no meatless Mondays in our house!) and this Braised Short Ribs with Mashed Potatoes or Polenta from Pioneer Woman is sure to be a winner.

I would never have thought to pair kale and citrus together so I'm looking forward to making this Kale and Citrus Salad. Yum.
We gotta have some slow-cooker usage and a curry of some sort. Curry is a staple in this house. And this Slow Cooker Pork Curry is looking DELISH.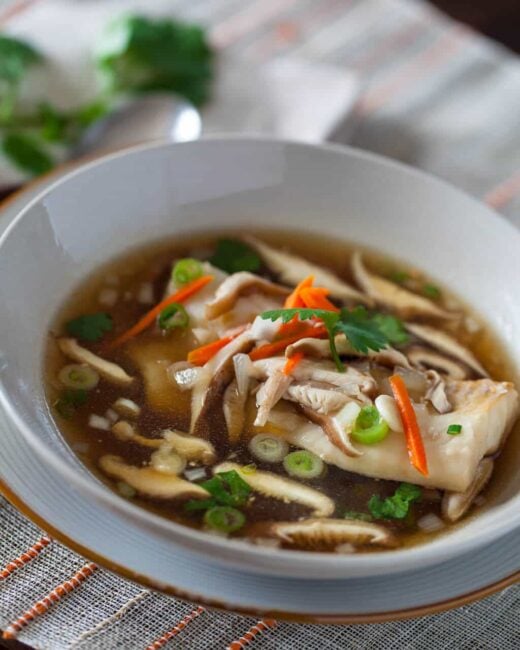 This Cod in Garlic-Ginger Broth from Steamy Kitchen sounds so inviting and warm. And EASY. Easy I think is the best part.
(And if you must know, I DID not try to make Pho last week. We went out to a Pho restaurant instead! Somedays, you just got to take your inspiration and have others do the hard work for you!)

I've been meaning to make Ube (Purple Yam) Bread
for awhile now and I finally bought frozen grated ube from the Filipino store last week. So here we go. I want to make it as purple as I can and I promise I will share the recipe here sometime. My daughter is so looking forward to it!
And finally! I found this Kale Tarts with Fennel and Olives on Saveur and I cannot tell you how excited I am to give this a try.
That's my delicious round-up for this week. What are you cooking in your kitchen these days?